Good Wednesday Morning.
Wednesday 13 February 2019 |  44 days until Brexit
Briefing By Nathan Shoesmith & Sam Haut
Three Points You Need To Know As You Wake Up
May accused of 'running down the clock' on Brexit
UK Prime Minister Theresa May has been accused of 'running down the clock' on Brexit in the House of Commons on Tuesday. The PM denied the claims, as she was repeatedly heckled by MPs laughing at her statement on Brexit progress. Jeremy Corbyn, the leader of the opposition said that Mrs May is "playing for time and playing with people's jobs, our economic security and the future of our industry."
Upskirting to officially be made criminal offence from April
The act of upskirting has been made a specific criminal offence in England and Wales after an 18-month campaign by Gina Martin. The bill to make upskirting an offence passed the last stages in the House of Lords on Tuesday. UK Prime Minister, Theresa May tweeted following the news saying "Very pleased to see the degrading practice of upskirting become a criminal offence after the tireless work of victims and campaigners."
Russia set to face new sanctions over aggression towards Ukraine
The EU and the United States are reportedly close to agreeing on new sanctions against Russia in an effort to punish Moscow for its aggression towards Ukraine in the Sea of Azov. Discussions regarding the new sanctions are expected to take place on Monday.
Today's Newspaper Front Pages

The Metro – Lead Brexit negotiator overheard saying 'it's May's deal or a long extension'
Daily Express – 'We're finished without Britain!' Dutch firms issue EU no-deal warning
i – MPs face choice between Theresa May's deal and extending Article 50, Britain's chief negotiator suggests
The Guardian – Labour MPs demand workers' rights bill to secure Brexit backing
The Daily Mirror – Labour blames 120,000 deaths on Tory austerity in hard-hitting new TV broadcast
The Times – Lone police patrols struggle to tackle surge in knife crime
What To Watch Today
Prime Minister's Questions will take place at 12:00 – expect lots of questions about Brexit…
And In Other News…
All flights in and out of Belgium today are cancelled, due to a strike by Air Traffic Control.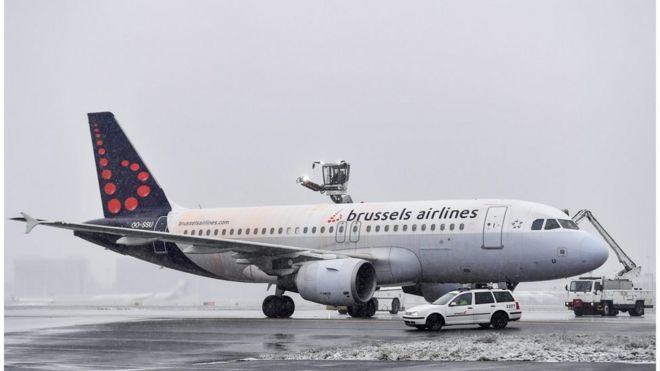 Photo Credit: AFP/BBC News
— 
You're Up To Date
The Speaker. 2019