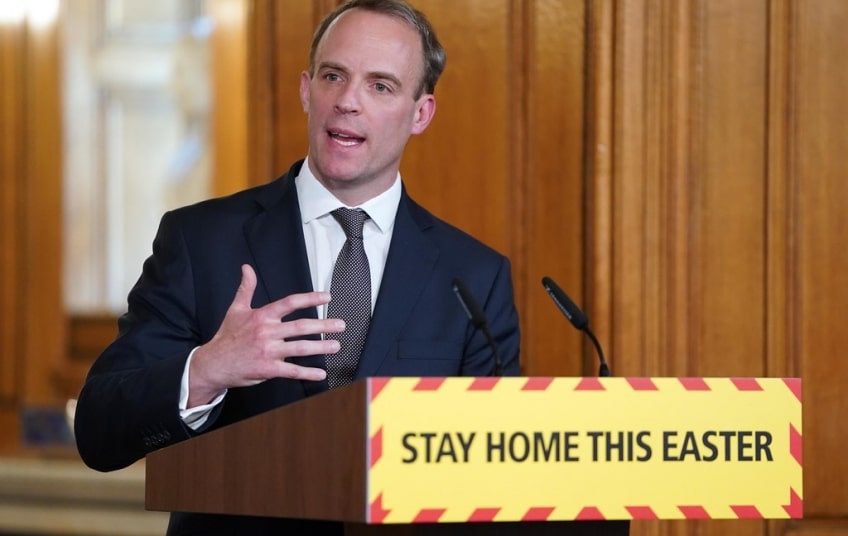 UK Foreign Secretary Dominic Raab has said the UK "must keep going" with current Coronavirus lockdown measures, saying "we're not done yet".
Speaking during Thursday's digital daily Coronavirus press conference from Downing Street, Mr Raab, who is deputising for the Prime Minister said the government is still trying to "get the fullest picture possible" of the effects of the lockdown measures. Mr Raab said that early signs show that the measures, which have now been in place for around two and a half weeks, are "having the impact that we need to see" but "it's too early to say that conclusively". 
It comes as latest figures ahead of the Easter Weekend show that 65,077 people have now tested positive for COVID-19 in the UK, while 7,978 people are sadly confirmed to have died in the UK after contracting the virus.
At the press conference, Mr Raab also confirmed that Prime Minister Boris Johnson remains in intensive care but said he "continues to make positive steps forward", adding that he is in "good spirits". Mr Johnson was moved into intensive care on Monday evening after being admitted to St Thomas' Hospital in London on Sunday evening for routine tests, according to Downing Street.
On Thursday evening, Labour's shadow health secretary Jon Ashworth urged the government to explain its lockdown exit strategy. Mr Ashworth said;
 "Labour urged the government to bring in the so-called 'lockdown' and supports maintaining enforced social distancing to save lives and protect the NHS where it is based on medical evidence.

"The British public have shown tremendous resolve in adhering to measures but are understandably looking for greater clarity from ministers on their 'exit strategy'.

"We've said previously that a 'lockdown' in itself is a blunt tool without a national strategy for community testing and contact tracing. We're calling on ministers to outline the next stage of their strategy to give the public the reassurance and clarity they expect."
The comments came after Mr Raab said during the press conference that the government would not be giving an update on the review of lockdown measures until "the end of next week"
 Photo Credit: Pippa Fowles / No 10 Downing Street under licence (CC BY-NC-ND 2.0)