The race for Tory leadership and PM title has officially begun as the final 10 contenders launch their campaigns with an intense focus on Brexit.
Boris Johnson, Dominic Raab, Michael Gove and Andrea Leadsom are on the formal list of candidates after several MPs dropped out due to not enough support in the House from their colleagues.
Others on the ballot paper include foreign secretary Jeremy Hunt, Esther McVey, health secretary Matt Hancock, backbencher Mark Harper, home secretary Sajid Javid and international development secretary Rory Stewart.
A series of votes by Conservative MPs will now take place to whittle down the candidates to a final two – hopefully by the end of the month – whereby the leader and de facto prime minister will be decided in a wider Tory party membership vote.
It comes after the tearful resignation of Theresa May who formally stepped down as party leader on June 7 after three years of battling Brexit, but will hold the position of caretaker prime minister until a new Tory boss is chosen. 
Mark Harper MP
The latest of the 10 to announce candidacy is ex-chief whip, Mark Harper, telling Sky News that he was an "underdog" with a plan on how to deliver the 2016 referendum.
After leaving the government, the MP for Forest Dean said his position outside of parliament during the Brexit process sets him "apart" from other Tory candidates.
He added: "Now I've got experience in government – but not as part of this government – and I think the skills that I learnt both as a minister for six years… mean that I've got a plan for delivering Brexit."
Contrary to other contenders, Harper told Sky News he is proposing a "short, but focused extension" in the hope the EU would "come back to the negotiating table".
"I'd be interested to see those saying leave with a deal by October 31 how they propose to do it but I don't think it's deliverable."
But the 47-year-old has not always wanted to be the centre of attention, as in 2014 he resigned from his role as immigration minister when it was revealed he hired a cleaner who was in the country illegally.
The Telegraph reported that in February 2014, Harper found his employee did not have indefinite leave to remain in the UK and subsequently made the decision to resign. 
And in a letter, apologised to the government for any "embarrassment" caused, writing: "As immigration minister, who is taking legislation through parliament… I should hold myself to a higher standard than expected of others". 
Jeremy Hunt MP
Jeremy Hunt, a consistent supporter of Theresa May, is also making his bid for leadership and is arguably a front-runner in the race for number 10.
The foreign secretary who was voted the top leadership candidate in a Conservative Home tally said it would be "political suicide" to leave the European Union without a deal, despite him saying the UK would "flourish and prosper" in October last year.
And some critics have suggested his reluctance for a no-deal Brexit may result in compromise and a delay in leaving the EU, with some referring Hunt as "Theresa in trousers" according to the Guardian.
And as other Tories announced the illegal drugs they took in the past this week, Hunt boldly claimed he had "never" broken the law in any way but was quickly corrected by critics who remembered the time he broke company laws to prevent money laundering and tax evasion.
He has also been condemned for saying he would like the legal time limit for abortion to be reduced from 24 to 12 weeks.
Esther McVey MP
Ex-work and pensions secretary Esther McVey announced her candidacy in early May and slammed Hunt on Twitter saying "political suicide actually lies" in not breaking from the EU and not leaving on October 31.
McVey resigned from her post in cabinet in November 2018 in protest of Theresa May's withdrawal agreement bill and said the Conservative party needed a leader who "believes in Brexit" and has "belief in the opportunities" it could bring.
And speaking to Sky News' Ridge on Sunday, she claimed the UK could have an "invisible border" with Northern Ireland in the result of a no deal despite the backstop being negotiated for months. 
She added: "Now if the EU wants to come back to us the door is open. If they want to have a better deal, that is fine."
Boris Johnson MP
The front-runner for Tory leadership and top spot in number 10 is ex-foreign secretary Boris Johnson, who was called a "hypocrite" when tweeting a tribute to Theresa May following her resignation – after weeks of criticising her dealing of Brexit.
The first minister of Scotland, Nicola Sturgeon responded to the Tweet branding Johnson a "hypocrite".
Writing in his weekly collum in the Daily Telegraph, Johnson said voters had given the Conservative party their "final warning" following dismal results in the EU elections and Nigel Farage's Brexit Party gaining 32 per cent of the overall vote.
Johnson said: "If we go on like this, we will be fired: dismissed from the job of running the country."
He added the only way to stop the party from "permanent haemorrhage" was to come out of the EU which "means doing it properly".
The controversial backbencher is due to launch his campaign on Wednesday with a strong focus on Brexit and battle against Corbyn. 
Rory Stewart MP
International development secretary Rory Stewart has been using Twitter calling on voters to meet him for one-to-ones to discuss his stance on Brexit and other policies following his announcement of candidacy.
He has said that Johnson's will of a no deal Brexit would be a "huge mistake" and ruin chances to form future trade deals with the EU or US, telling BBC's Today programme that senator Nancy Pelosi said the US wouldn't be "keen" on forming deals with the UK if we were to accept no deal.
"I could not serve in a government whose policy was to push this country into a no-deal Brexit," he added.
The MP for Penrith and The Border also revealed to Sky News on Tuesday that he wanted to double Britain's diplomatic budget and "shift" its foreign policy focus away from the Middle East and towards Asia and Africa.
And he also warned co-contenders like Johnson and Raab pushing for a no deal would split up the Conservative party, saying: "I am worried about us splitting.
"The reason I am worried about us splitting is that I think this is a country which is on the brink of having an extraordinary future…and what really makes me sad about this is that if we get stuck in this Brexit fight and these divisive outlooks we are not going to seize that opportunity."
Stewart also has recently come under fire for admitting he smoked opium at a wedding in Iran 15 years ago. 
Sajid Javid MP
Home secretary Sajid Javid has also thrown his hat in the ring for the top spot in the Tory party, announcing he would put 20,000 more police officers on the streets if he becomes the next prime minister.
Speaking to the Sun, he said he would spend £1m over three years to have more officers keeping communities safe ending the "culture of impunity" created by criminals.
Javid, MP for Bromsgrove also hit out at Theresa May who previously said there was no "direct link" between police cuts and knife crime, adding "more police on the beat" means "less crime on our streets".
He added: "Not exactly rocket science is it?"
The MP has also announced tax cuts as he said a low tax burden is not only "essential to help grow the economy" but is also "morally right".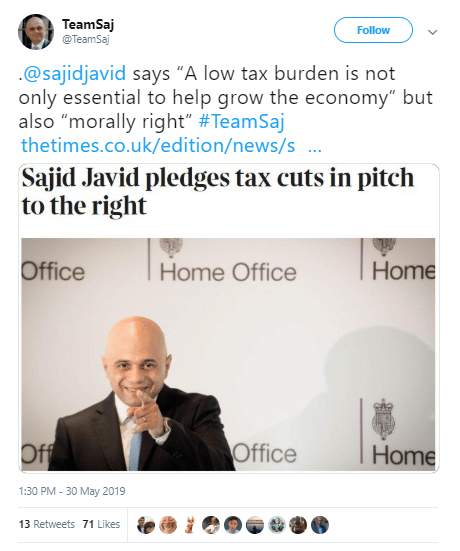 Javid has slammed other candidates this week for admitting their past drug use – including Michael Gove who announced taking cocaine – saying middle-class drug use is hypocritical and "destroying lives".
Michael Gove MP
However, basing his campaign on the opposite of what the 2016 election set out is Michael Gove, MP for Surrey Heath, who boldly announced he would give British citizenship to all EU nationals living in the UK at the time of the referendum.
In his bid for leadership, he said he would honour the referendum first before calling a general election, adding that if he fails to do so number 10 would be occupied by Labour leader Jeremy Corbyn and "propped up by the SNP".
The 51-year-old has also come out revealing his previous use of cocaine as a "young journalist" and that it was "fortunate" he didn't go to prison for it.
And despite rumours that Gove would be a "unity" candidate having always supported May, a close source to the MP told the Sunday Telegraph that Gove was a "consistent Brexiteer who put his career on the line to lead and win the leave campaign". 
They added: "He has also won the confidence of many of those who voted to remain who believes he has the proven ability to deliver the best deal for Britain…He has always believed in Brexit and he is capable of delivering it, with the best track record of any candidate."
After announcing his free citizenship bid, the environment secretary has gained the support of the leader of the Conservative Friends of Greece parliamentary group Alberto Costa MP, who on Sky News stated Gove's proposal was much to his delight.
He said: "This is the morally right thing to do & will help heal our nation. He has my full support to be our next PM."
Dominic Raab MP
Ex-Brexit secretary Dominic Raab has also made his bid for leadership after posting a video of himself on Twitter speaking about "fairness", saying it is something he has been fighting for his "whole life".
The video has since been branded "creepy" and "awkward" by savage Twitter users because of the way he slowly turns his head to the camera before speaking.
In the one-minute video, Raab said: "Fairness. For me, that word means cutting taxes for the lowest paid. It means ending customer rip-offs and it means cutting the cost of living for working families."
He added it also meant negotiating a "fairer" deal with the European Union "as we leave so that we're free to trade with growth markets of the future,".
However, in 2011, Raab was accused by Theresa May of fuelling "gender warfare" when he referred to feminists as "obnoxious bigots", a statement which has come back to haunt him through his leadership campaign.
But the MP for Esher and Walton stood by his claims when speaking to ITV, saying the point he was making is that sexism is wrong and it is wrong if it is said about a woman or about a man.
He said: "I think equality is too precious a value for us to put with double standards. I do think we should call hypocrisy out in political debate and political life."
And despite him announcing changes to trans-rights in 2017, he also told ITV he did not support making it easier for someone to change their gender, adding society needs "to be careful" when it comes to this.
"I want everyone to feel comfortable in their own skin. But I do worry a little bit with some of this debate – whether it is in relation to vulnerable women in prisons or children in school – that we take a careful, balanced approach because we need to be a society which is small-L liberal, if you like, which is tolerant and warm to the LGBT community."
Matt Hancock MP
Matt Hancock MP is one of few leadership contenders who think leaving the European Union without a deal is unrealistic and is possibly taking a more compromise approach to a deal as Theresa May.
The health secretary told LBC's Nick Ferrari: "Simply saying you are going for a no-deal Brexit is just not credible as a policy option. It's not going to be available no matter who is Prime Minister."
Hancock said the reasoning for this is that the House of Commons will not allow a no-deal Brexit as it had already voted in favour of blocking the decision.
He added: "I wanted to leave the EU on the 29th March. I had done the work in the Health service to prepare for a no-deal exit. But the House of Commons blocked a no-deal exit."
The 40-year-old MP for West Suffolk also called out Nicola Sturgeon in the Telegraph, condemning the Scottish first minister's proposals of a second independence referendum dubbed 'indyref2', which would give Scots the choice to become independent from the UK.
Andrea Leadsom
Former leader of the House of Commons Andrea Leadsom MP made her bid for candidacy on May 26, less than a week after she resigned from her House position as she could not continue to support deal she "fundamentally disagrees", adding on Twitter, that the EU election results demonstrated the "damage that has been done" to the Conservative party by not leaving the EU.
As well as calling herself a "compassionate" leader, Leadsom told the Sunday Times she would be a "decisive" one that would walk away without a deal if she had to.
It will be the second time the MP for South Northamptonshire has run for Conservative leadership where, in 2016, she announced candidacy following David Cameron's resignation. 
The next stage of the process means all 313 Tory MPs will vote for their favourite candidate in a series of votes held on 13, 18, 19 and 20 June until a final two contenders are chosen. 
All those in the race will need to win the ballots of 16 colleagues in the first vote and 32 MPs in the next to continue on.
A final vote will then be put to the 160,000 Conservative party membership from June 22, whereby the new leader and prime minister will be announced about four weeks later.