Train commuters are facing travel disruption this week as South Western Railway (SWR) staff strike for five days over the long-running issue of train guards. 
Members of the Rail, Maritime and Transport union (RMT) began to take action on Tuesday in response to the dispute with SWR by organising picket lines outside of stations.
Some of the busiest routes will be affected during the strike including trains into London Waterloo, already resulting in cancellations, delays and bus replacement in some areas.
The RMT accused SWR of "dragging their heels" in February negotiations after it looked like there would be a deal over the role of train guards.
It also said SWR was "rowing back" on public pledges.
Cross commuters were tweeting pictures of crammed platforms and carriages at busy stations including Surbiton where people had to queue for 300 metres just to get inside.
It is thought tens of thousands will be affected on the way to big events this week including Berkshire's Royal Ascot, music gigs at Hampton Court and a Metallica concert in Twickenham on Thursday.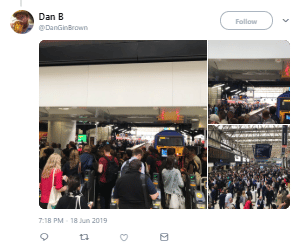 SWR said it win run extra services for these events but urged commuters to plan their travel in advance due to it being busier than usual.
Running services in London and Berkshire, Surrey, Hampshire, Dorset, Devon, the Isle of Wight and Somerset, SWR has voiced concerns saying the action is "unnecessary" and "cynical" of the union to strike during such events.
However, the RMT says the staff were given no other choice than to protest in strikes that now amount to a total of 29 days in the past two years. 
The union's general secretary Mike Cash said SWR had "failed to bolt down" an agreement that matched their guard guarantee expectation.
He added: "The company has refused to give assurances on the future operational role of the guard, fuelling fears amongst our members of a stitch-up,".
But saying they confirmed further talks with RMT next week, an SWR spokesperson said the company was still "committed to finding a solution".
They added: "The RMT has always said it wanted us to keep the guard on every train which is what we have offered as part of a framework agreement.
"We want to move the conversation on to how we operate our new trains and take advantage of the new technology on board to benefit our customers."
Strike action is due to end at 23:59 on Saturday.
For more information please visit: www.southwesternrailway.com/plan-my-journey/rmt-industrial-action