Theresa May has clashed with Jean Claude-Junker during talks on changing the Brexit deal in Brussels but seemed to secure agreement for a fresh round of formal negotiations to break the impasse.
The European Commission President stressed the withdrawal agreement could not be changed, as the UK prime minster wants.
But he said the EU was open to adding words to the non-binding future relations document that goes with it.
The two leaders agreed to meet for further talks before the end of February.
The renegotiation of the terms of the Irish backstop were firmly rejected by the European commission president despite May's insistence that such a move would win over MPs to her withdrawal agreement.
However, in a significant step, a joint statement from downing street and the European commission announced new talks on the 'speed' with which the two sides would seek to complete their post-Brexit talks on the future trade deal.
The Brexit secretary, Stephen Barclay, is to meet the EU's chief negotiator, Michael Barnier, in Strasbourg next Monday.
The two sides also indicated in their statement that significant progress is not expected by next Wednesday (13th), when the prime minister had suggested that she might put a revised deal to MPs.
Junker and May are instead to meet again before the end of February, with a scheduled EU-Arab league summit on the 24thof that month now appearing to be a possible key moment in the Brexit talks.
In the joint statement, Theresa May had described to Junker 'the context in the UK parliament, and the motivation behind last week's vote in the House of Commons seeking a legally binding change to the terms of the backstop'.
May is seeking 'alternative arrangements' to replace the Irish backstop, a time-limit on the customs union it envisages or a unilateral exit mechanism.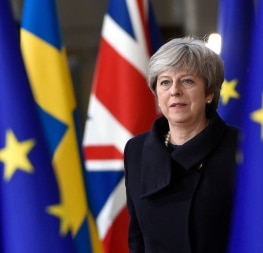 In response, Junker told the prime minister that the EU would not 'reopen the withdrawal agreement, which represents a carefully balanced compromise between the European Union and the UK, in which both sides have made significant concessions to arrive at a deal'.