Good Wednesday Morning.
Wednesday 20 February 2019 |  37 days until Brexit
Briefing By Nathan Shoesmith & Sam Haut
Three Points You Need To Know As You Wake Up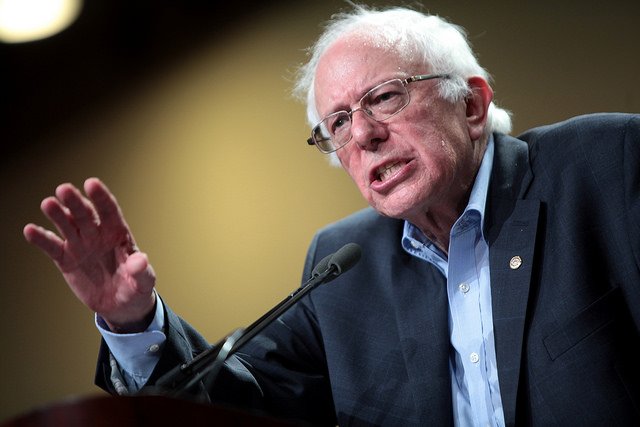 Photo: Gage Skidmore
Bernie Sanders announces his 2020 Presidential run
US Senator Bernie Sanders confirmed that he will be running for president again in the 2020 election in an event with Vermont Public Radio. Sanders is the sixth candidate to seek the Democratic party's nomination and is the 12th candidate to announce plans for a White House run. Mr Sanders said "I wanted to let the people of the state of Vermont know about this first". The Bernie Sanders campaign has confirmed they raised $1 million in the first 3.5 hours since his announcement.
Pakistan denies involvement in bomb attack
Pakistan's PM Imran Khan has said India should "stop blaming Pakistan without any proof or evidence" for a bomb attack in Indian-administered Kashmir last week. He continued by saying: "Any adventurism on the part of India to threaten the sovereignty of Pakistan will be met with assured retaliation…" Khan also called for dialogue and cooperation with India to investigate the attack.  
Protester charged with harassment following Anna Soubry incident
Protester James Goddard has been charged with harassment following an incident involving the Conservative MP Anna Soubry outside parliament. Mr Goddard is due to appear at Westminster Magistrates' Court in March.
Today's Newspaper Front Pages

The Metro – Isis bride Shamima Begum to have British citizenship revoked
Daily Express – Labour split proves it cannot be relied on to save Brexit, says Jeremy Hunt
i – Labour split: Chuka Umunna calls on Tory MPs to join new Independent Group
The Guardian – New Zealand former PM denies writing glowing pro-China piece for Beijing paper
The Daily Mirror – Jeremy Corbyn admits Independent Group 'regret' in first appearance since split
The Times – Karl Lagerfeld's pampered cat Choupette will get his paws on £150m fortune
What To Watch Today
Prime Minister Theresa May is expected to meet European Commission president Jean-Claude Juncker in Brussels today as the Brexit departure day draws ever closer.
And In Other News…
Fashion icon and Chanel boss Karl Lagerfeld has died at the age of 85.
— 
You're Up To Date
The Speaker. 2019